Apivio Systems Inc., Is A Game Changer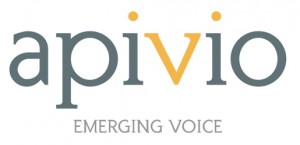 It was no surprise to me to discover Bloomberg Businessweek today posted a profile about Apivio Systems Inc. (APV on the Canadian Stock Exchange), a game changer in the International communications equipment and software industry.
As someone with many years in the telephony, telecommunications, VoIP, telephone solutions and communications industry, I'm always checking out all the players.
Apivio Systems Inc Impressive Portfolio Of VoIP Solutions
As Bloomberg Businessweek points out in their recent profile, Apivio Systems Inc., headquartered in Richmond, Canada, provides a portfolio of voice over Internet protocol (VoIP) telephone solutions, including various wired and wireless devices.
They offer excellent devices and integrated software applications for use by small and medium sized enterprises, home offices and residential users.
Diverse Network Of Dealers & Distributors
After investigating their various options, I am very impressed with Apivio Systems Inc's VoIP desktop telephones which they sell through a very diverse network of dealers and distributors.
They also have a game changer wireless VoIP handset for phones as well as PBX solutions, UC services and accessories.
Moinstone Corporation To Apivio Systems Inc.,
The name Apivio Systems Inc., might not initially ring a bell for some industry insiders.
That might be because the company was formerly known as Moimstone Corporation based in South Korea.
In May of 2014 Moimstone became Apivio Systems Inc.
CEO Rob Bakshi Is Driving Apivio Systems Inc., To New Heights
Although many components go building a successful corporation, without a great leader at the helm, even the best companies will ultimately falter.
Leading Apivio Systems Inc., is seasoned entrepreneur Rob Bakshi with an impressive business track record.
Mr. Bakshi co-founded a technology company, Silent Witness Enterprises, which was listed on the TSX and Nasdaq.  After great success, the company was sold to Honeywell for approximately $90M in 2003.
Since the sale of Silent Witness, Mr. Bakshi has been involved with several strategic investments.  In 2009 Mr. Bakshi saw an opportunity to get involved with Moimstone and help move it forward.
Since Mr. Bakshi's involvement, the company has changed its name to Apivio Systems and  transitioned from the hardware segment of the VOIP business to a more lucrative role as a software provider.
In a recent interview with the Cantechletter Mr. Bakshi outlined his plans to truly make Apivios systems Inc., a game changer in the VoIP International community.
Mr. Bakshi told Cantech "The original business of the company was based on hardware margins. Now, as the CEO, I have changed our strategy and product mix to more software. Going forward, as we roll out global sales, I expect for the company to achieve higher gross margins and recurring revenues. We have customers like NEC America and DotComm to prove it."
CEO since 2013 Mr. Bakshi was responsible for taking the company public and now executing the business strategy.
Summary – Why Apivio Systems Inc., Is A Game Changer
What happens when you combine an impressive leader like Mr. Rob Bakshi with a track record of great corporate leadership and a great suite of VoIP telephone solutions?   You have Apivio Systems Inc., a game changer.
Keep your eye on Apivio Systems Inc., this is a company in its infancy which I have no doubt will grow up to be a giant in the communications industry.